Available for kon-boot v2.6 (if you use this feature in kon-boot v2.7 the older version (2.6) will be installed) Requirements: Your BIOS need to be configured to start from the USB media. If you don't know how to configure your BIOS please check external video tutorials - here; USB thumb drive (FAT32 filesystem).
* Perpetual Licenza Personales include 1 month of support and 6 months of free updates. A perpetual personal license can be used only by the named person who purchased it. License transfer and concurrent usage are prohibited. Personal licenses purchased by organizations and business entities are invalid. Personal licenses can be used solely for non-commercial purposes. We don't provide invoices for personal licenses. If you are the only person planning to use the license, then the Licenza Personale is the best choice for you. You are also not allowed to use kon-boot on computers which are not your property. ** Perpetual Licenza Commerciales are available to a developer within a a company or organization, requiring the software for general commercial use. They include 6 months support and 1 year of free updates. Licenza Commerciales registered to a legal entity allow for use of the software on any computer, operating system, and by the registered user within the legal entity. The provided total number of concurrent users cannot exceed the number of purchased licenses. Please note: One kon-boot license permits the user to install kon-boot on only one USB pendrive. In other words one license can be used to activate one USB pendrive only (you cannot use the same license to activate different USB pendrive). Software will be only available for download during free support period so please store it in secure location.
Refund policy: You have 7 days to submit a refund request starting from the day of your purchase. If kon-boot worked on at least one of your machines you are not qualified for refund. Not meeting system requirements cases will not be refunded. In order to get a refund you will need to provide a video demonstrating your problems with kon-boot (specifically booting target system with kon-boot media). Refund requests without proof of not working (video recording) will not be accepted. Due to numerous cases of scam/extortion cases 'accidental' purchases will not be refunded. Ignoring the system requirements is also not qualified for refund. Please purchase wisely!
Kon-Boot is an application which will silently bypass the authentication process of Windows based operating systems. Without overwriting your old password! Easy to use and excellent for tech repairs, data recovery and security audits. All Windows systems starting from Windows XP to Windows 10 (both x86 and x64). Available for kon-boot v2.6 (if you use this feature in kon-boot v2.7 the older version (2.6) will be installed) Requirements: Your BIOS need to be configured to start from the USB media. If you don't know how to configure your BIOS please check external video tutorials - here; USB thumb drive (FAT32 filesystem).
4. YUMI
YUMI is created by the same author as Universal USB Installer which is why they both share very similar graphical user interface. The only difference is YUMI allows you to create a bootable USB flash drive with multiple distributions. The steps to create a Kon Boot USB are exactly the same as Universal USB Installer.
However when booting up a USB drive created by YUMI, you will first see a boot menu. Select "Other Operating Systems and Tools" -> followed by Konboot and finally select "Boot Konboot" from the menu. Kon-Boot will now run and then you will be brought back to YUMI's boot menu. Now you can select "Continue to Boot from First HD (default)" to boot up Windows and login to any user account without a password.
Download YUMI
5. Kon-Boot USB Installer
This fifth method would most probably work for you if all of the above fails because it uses a different bootloader called GRUB. This Kon-Boot USB installer script is actually the official script provided by the author of Kon-Boot for their paid customers except it is packaged with the FREE version 1.1 and not the paid versions 2.0 or 2.1.
To use it, download the installer from the link below and extract to a new folder. Plug in your USB flash drive to the computer and format it as FAT32 file system. Right click on usb_install_RUNASADMIN.bat file and select "Run as administrator". You should see a Kon-Boot USB Installer window with the information of your USB drive.
Confirm that your USB flash drive is correctly detected and finally click OK to start installing Kon-Boot to your USB flash drive.
Kon Boot 2.1 Free Download
Download Kon-Boot USB Installer
6. Hiren's BootCD
Hiren's BootCD is the king of all boot discs containing tons of utilities including Kon-Boot which are very useful to computer technicians, enthusiasts and engineers. Hiren's BootCD comes as an ISO image which is meant to be burned to a disc but it can also be installed to a USB flash drive using the correct tools, or else some of the utilities will not run properly.
You can either use Universal USB Installer or YUMI which was mentioned earlier to install Hiren's BootCD on to USB pen stick and then boot it up. At the Hiren's BootCD menu, simply select Kon-Boot from the list.
Download Hiren's BootCD
Additional Notes: Although Kon-Boot's official website stated that the free version doesn't support Windows 7, we have successfully tested it on Windows 7 Ultimate 32-bit without problems, but as expected it fails on 64-bit. Another issue we found when testing Kon-Boot USB on Windows XP is only methods #5 and #6 work properly while the rest simply crashes the XP operating system. Looks like GRUB boot loader has better support for Kon-Boot compared to Syslinux.
We've also tested the free Kon-Boot on Windows 8 but it didn't work as it kept on going into automatic repair mode. The latest paid version 2.2 supports Windows 8, comes with a sticky keys feature to launch a command prompt with system privilege before logging in to Windows and support EFI from USB.
‹ Previous12 View All
You might also like:
Create a Live Linux on USB Flash Drive with built in VirtualBox3 Ways to Install and Run Kaspersky Rescue Disk from USB Flash DriveBoot an ISO directly from the Windows Boot Manager3 Network Bootdisk for Microsoft Network in Floppy and Boot CDInstalling Windows 7 System Recovery Disc onto USB Flash Drive
28 Comments - Write a Comment
I've had issues when trying to make a bootable USB drive with Konboot using the "make USB" tool that they provide with the tool. I got it working using 'Sardu" and/or XBoot to make it :) Hope this helps :)
Reply
kishorerprem8 years ago
I tried all methods are written here. But, still I can't boot in kon-boot. Its saying "ERROR loading operating system". Can anyone help me?
Reply
Today I paid $15.99 for usb download, but it's not working on the pc. I've tried entering a new dummy password – doesn't work. I've held down the F11 (boot) key and selected "usb" but that doesn't work either. I downloaded konboot to 2 different USBs … neither works. Any ideas?
Reply
HAL9000 Admin8 years ago
Are you saying you see the Windows logon screen but it won't bypass the password or you don't even get so far as seeing the Kon-Boot screen?
Also, if you just paid for the software you get support from the developer for a short period of time, might as well use it and also direct any issues there as well.
Reply
I am getting this error while booting through unetbootin – pkzip file uses invalid method. Please help.
Reply
Hanataro8 years ago
Can you still use your own USB stick after using it for kon-boot?
Reply
Yes, you certainly can. Just format it again.
Reply
ron11 years ago
thanks for the guide.
Reply
thanks!!!!!!! works perfect!!!!!!! thanks again!
Reply
4you00711 years ago
Thanks Great tool
Reply
It's work For XP and VISTA ..Your's Great!!!!! Raymond
Thanks
Reply
veitch12 years ago
thanks raymond, my netbook work normal again.
Reply
I'll try it right now for a friend who has been victim of a bad joke. However, if "ABC Formation, 2001" tells you about something, don't hesitate and e-mail me!
Thanks for all, good job.
Reply
crc13 years ago
thanks buddy
Reply
Had for waiting for this article. Thanks Raymond. You're the best
Reply
Alan13 years ago
Thanks Ray for hearing our prayers
Reply
Thanks Raymond, very nice tip.
Reply
webcadre13 years ago
thanks ray! awesome post! :)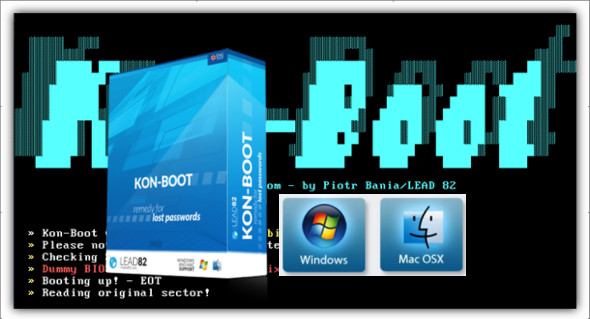 Reply
working here with out any glitch.
Reply
Junn13 years ago
Wow, I was actually expecting you to pursue this subject (Kon-Boot to USB, as others have been asking for), Raymond. Thank you!
Reply
Thanks Ray for another great post!
Download Kon Boot Usb
Reply
vua13 years ago
i believe this should be possible some day! awesome
thanks Raymond
Reply
yay ray thanks finally i can use kon-boot to usb…using a CD for such a small file is a complete waste and for a floppy..no one knows whether its gonna work the next second
Reply
ha1413 years ago
I saw some debate regarding Kon-Boot to USB, many were wondering how. Thanks for lighting the path to it.
Reply
thanks in advance.
Reply
Kislay Kishore13 years ago
Its brilliant Raymond
Reply
great ray.
Reply
mazani13 years ago
thanks ray for your info
Reply